Pursueing a passion in the energy sector
The sustainable energy sector in the Netherlands seems to attract people from all over the world. Coming from Iran, Kiana Afzali decided to stay for work after completing her Master's at Technical University in Delft (TU Delft). As a solution engineer now at a scaleup company, Gradyent, Kiana shares her experiences of orientation in the job market and dealing with visa processes in the Netherlands. Furthermore, she discusses the energy and sustainability industry here and how it differs from her home country.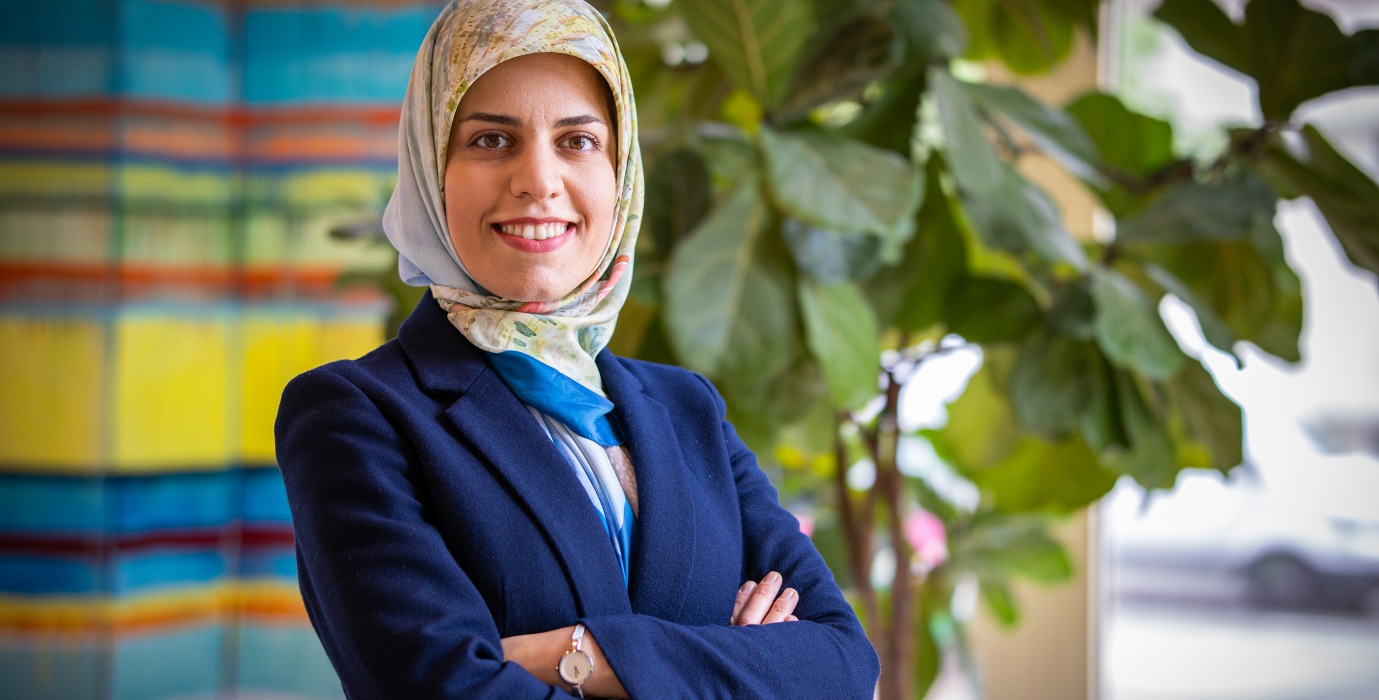 From Student- to Work-Life
I moved to the Netherlands to pursue my Master's in Complex Systems Engineering and Management at TU Delft. I wanted to work in sustainability, particularly in sustainable energy. The university offered me a faculty scholarship, making it an attractive option for me to move to the Netherlands. Since I moved to the Netherlands for my studies, I was not actively looking for a job here before coming. However, the university provided us with several workshops on finding a job, which were very helpful. The career and counselling centre and other resources, such as the De Delftse Bedrijvendagen (DDB) job fair at TU Delft, helped me understand the job market in the Netherlands, the requirements, and how to prepare for it. I learned about the different companies and their involvement in the energy transition. Overall, I gained a good understanding of the job market in the Netherlands through these resources, and I believe that the university prepared us well for the job market.
Working in the Energy Sector
I think Europe is at the forefront of energy transition and sustainable development, particularly in the Netherlands. There is a lot of activity in the energy sector here, so I am really happy with my choice. Firstly, it is highly innovative, with many visionary scaleups and startups working towards energy transition, which is a positive aspect. However, there are some challenges. It is primarily male-dominated, making it challenging to achieve gender balance in companies dedicated to the energy industry. Additionally, as an international expat, you should understand that many big companies are predominantly Dutch, which makes integration much more challenging.
In my home country, Iran, there is a heavy reliance on fossil fuels and little focus on energy transition, unlike in Europe. Sustainable development and sustainable development goals are not widely known or discussed, and there are few regulations or directives to support energy transition. As a result, this sector remains stagnant in Iran. In contrast, in the Netherlands, a lot of activity and development is happening in the energy industry regularly. New technologies, companies, solutions, and regulations related to energy transition are introduced into the market almost weekly. There is also a higher awareness among the public about energy transition, which positively impacts the professional sector and makes it a completely different landscape compared to Iran.
To remain in the Netherlands, I used a highly skilled migrant visa. The process went quite smoothly; I simply had to fill the forms and submit them to the company. I believe it took about two to three weeks to receive approval for my visa. The only challenge was that I didn't have much insight into the process and couldn't track its progress. Ultimately, everything turned out well, and I would say it was a positive experience. I heard about the available residence permits in the Netherlands from my friends. Many of my friends had a highly skilled migrant visa before obtaining their residency. However, I had the Zoekjaar visa (the orientation year visa), and I mostly received information from the community around me who were in the same situation. Additionally, I found sufficient information on the IND website to shape my understanding of the possibilities available.
Regarding other documentation processes in the Netherlands, I found the taxes quite high because I come from a country where we are not used to paying such high taxes. The positive surprise was the social security side of things, as I didn't expect to receive so much support from the government in the form of allowances as a student. It made life a bit easier financially, which was a positive surprise during my time as a student.
Living in the Netherlands
"As a Muslim and an international, I feel it's easier to live in the Randstad region because of the presence of a supportive community around me."
I currently live in the Randstad region. I initially moved to Delft, and after completing my studies, I stayed in The Hague and worked in Rotterdam. As a Muslim and an international, I feel it's easier to live in the Randstad region because of the presence of a supportive community around me. What caught my eye when I started living in Delft is that it is a city with a large Muslim and Iranian community. So, it was interesting for me to stay in this area. I have never experienced living outside of this region. When I moved, the first local habit that was initially surprising to me was the concept of a Dutch lunch, which was very different from what I was used to in my home country. Initially, I reacted a bit reluctantly. But soon, I got used to having one or two sandwiches as my lunch, and I found it quite good. Another thing I noticed was the minimum to no hierarchy. I first experienced it in university when I could call my professors by their first names. Initially, it was difficult for me, but now I think it was a positive experience since it makes communication easier.
"The Netherlands has a very dynamic, growing, and active economy. As a young professional, you can easily find what you like to do, and there are plenty of opportunities for innovative and creative people."
Generally, this community is more accepting of different people and foreigners, regardless of their religion. It's not hard to blend into this community and pursue what you like. You wouldn't face many barriers just because you're a foreigner. Apart from the language barrier, there's not a lot that hinders your progress. Another thing that I really like about the Netherlands is that it has a very dynamic, growing, and active economy. As a young professional, you can easily find what you enjoy doing, and there are plenty of opportunities for innovative and creative people. The university you choose can take you in a direction you haven't necessarily planned out before.
For Kiana Afzali, finishing her Master's degree at TU Delft led to her successfully orienting herself in a fast-growing sustainable energy industry in the Netherlands. Her experience can emphasise some advantages and challenges a foreigner may encounter when settling abroad. Regardless, smooth documentation processes, ample opportunities within the sector, and the supportive community became major factors for Kiana to pursue her passions and influence the energy sector with her work in the field.
Interested to know more?
Welcome to NL job portal

Sustainable district heating grids
Explore your options in the Netherlands
Discover the Randstad area and the Energy sector in the Netherlands.